Your Guide to Buying the Right Classic Car
Written on the 24 February 2021 by Nathan Drew, Fox Finance Group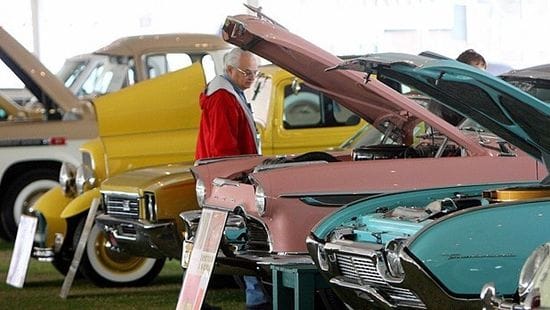 Are you looking to put some money down on your next sweet ride that you have just found online? Is it a bargain, or will it turn out to be a money pit?
Unless you are experienced in knowing what to look for, there's just no way to tell.
We spent some time speaking with a long-term customer of ours here at Fox Finance Group and got his top 6 tips that will help you avoid buying the wrong classic car.
"Most people want to be able to have fun on the weekends with their classic car," Kevin says. "But you also need to think of them as an investment that could potentially make you money on down the line."
Check the Numbers
Kev always looks for what are known as "numbers-matching" cars. That is, cars where the engine, transmission, and rear axle all link up to the vehicle's vin number. "At the end of the day, the best investment cars are going to be numbers-matching cars," he says. How do you know if the numbers add up? Kev says most motors have the last six digits of the VIN number stamped on them, which makes that an easy check. The transmission and rear end are a bit trickier. Usually they'll be stamped with date codes, which you can look up to determine if the dates sync correctly. "It's not a problem if they don't all match, it's just not going to bring the bigger money that an all-matching car will. You can never lose if you find an all-numbers-matching car. It's a way safer bet."
Low Mileage Can Mean a Higher Purchase Price
It sounds obvious but the fewer miles they have on the speedo, the more you will pay for the car. This is where it's handy to have a budget in mind before hitting the internet. But Kev isn't too concerned about mileage. He'll just spend way less money to purchase a higher-mileage car. "As long as it's reflective in the price of the car, I don't stress too much about it". Still, if you intend on buying high-mileage classic car you really need to know your stuff and know what to look for mechanically. "Most of the classic cars getting around with high miles have had some engine and drivetrain work over time. So, it's more about knowing what is important to have had replaced and what it was replaced with. Were genuine parts used and can this be substantiated with original receipts?"
Rust is the Cancer of Classic Cars
The easiest way to avoid problems is to look out for signs of rust bubbles. "Large amounts of rust can be a killer for me," says Kev. "I always think really hard about whether it's the right one for me when I see it. It's not because I don't know how to fix it. I do. But it's not going to be the same after you start cutting panels. You can replace panels, but once you start with a rusty car, in my opinion, it's always a rusty car. I know you won't find one still in factory-original condition again, but if you are patient you will find one that is a real gem. If I saw a bubble or two on a quarter panel that would not bother me," he says, "but when you can see through the trunk and floors and the sides are all eaten up, there comes a point when your money is better spent finding a nicer rig. It can just become a money pit."
Do Your Homework
Thanks to the Internet, there's more information available about the classic-car market than ever before. "We live in the age of technology so it's easy to get your hands on plenty of info," says Kev. "You can put a car model name and 'sold for' into any search engine, and you're going to pull up all sorts of forums and articles that are written on that model car. To really compare your potential investment to other recent sales I have always thought of them in categories from one to ten," says Kev. "Ten is a perfect car, and to this day, I've never met a "ten." Nine is a very good car, eight is a good car, and seven to me is a fair-condition car and so on. I try to stay away from cars that are less than "fair condition," says Kev.
Colour Does Count
Buyers do care about a car's paint colour, especially if it's a rare combination. "You'd be surprised how much more someone will pay for a vehicle with the "right colour for that year," says Kev. Most classic car models had a popular colour that was bought out in a particular year. In today's language that same colour probably would not be seen on a showroom floor, but back when the car was released it was in fashion, and this is what makes it still popular today for the tradionalists."
Fuel Guzzlers Are Popular
Classic muscle cars with huge engines are generally hot sellers. "Right now, the money's really in original big-block cars, which is cool," says Kev. "Camaros, Corvettes, Chevelles, Mustangs they are considered the big blocks. They're the bigger cubic inches and have more horsepower, and they were produced in smaller numbers to that of the smaller-size donks. Even though these are the cars that don't get great fuel mileage, they have had a big come back in recent years and will probably hold their value long into the future," Kev says.
Don't Be Afraid To Finance
In speaking about his experience with Fox Finance Group, Kev says, "Many more financiers are now wanting to offer great low rate classic car loans. When you think about it, if you are choosing the right car and you are not paying over the odds for the car then you may well be onto a winning formula. In fact, if you choose the right model, the right colour, in the right condition, it may very well go up in value over time. The thing you need to consider is how much will it cost per week and what will be the total interest paid on the loan. If this can be offset against the gain in vehicle value, and assuming that you can afford the weekly repayment, your new classic car could cost you a lot less than you think, and you could be into your new classic car quicker than you thought." Apply now for Classic Car Loan Pre-Approval.
Our Final Tips
Buy What You Love
Do Your Homework
Buy the Best Car You Can Afford
Pay Attention to the Vehicle's History
Have the Car Properly Insured
Enjoy the Ride
Have you found the "right one" and want to finance your Classic Car dreams?
Speak with one of our Classic Car Loan experts about the various classic car loan options we have available. We've been helping our customers with low rate classic car loans for years and we understand your passion for old skool!
Learn more about the Author Nathan Drew.



Author:
Nathan Drew, Fox Finance Group
About: Managing Director - Fox Finance Group
Connect via:
LinkedIn