Borrowers Will Use Their Power to Shake-Up Big Four Banks
Written on the 13 March 2019 by Nathan Drew, Fox Finance Group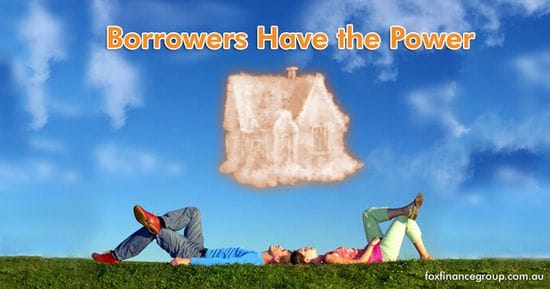 Borrowers Have the Power
Our Home Loan Specialists are already seeing signs that suggest that the big four banks are in for a challenging year when it comes to attracting new borrowers, and our in-house experts have weighed in on what this means for the mortgage market.
Wayne Spindler, Senior Home Loan Specialist at Fox Finance Group feels that people will continue to move away from the traditional big four banks due to trust issues in the post Royal Commission world, and the tightening finance environment.
"What we are seeing is that some of the poor behaviour detailed in the royal commission seems to be making more consumers weary about the big four banks.
"What could result is more borrowers turning to smaller, more niche home loan lenders, who are currently offering lower rates and lower fees to my customers, along with a more flexible approach to lending, " Mr Spindler said.
"We are also finding that these alternative lenders have easy-to-use platforms which help us personalise our service with the customer and offer a faster turnaround time.
What I am seeing from the more competitive lenders right now is a common-sense approach to individual circumstances with less reliance on computer generated scorecards that use matrices that cannot be explained," Mr Spindler said.
Jason Desmond, Head of Business and Commercial Lending at Fox Finance Group, does not see a major change in the way that lenders are buying business any time soon.
"Basically, we're all treading water until after the federal election, and depending on which party gets in will determine which of the banking royal commission recommendations are implemented and how and when," Mr Desmond said.
"APRA's relaxing of the cap on the number of investment loans has definitely had a positive impact on property investment, and I've found that we have really had to step up the research that we are doing on which lender is now best suited for our client.
This is a positive thing, as we now have more choices to offer our clients with the newer challenger banks that have recently entered the market. We love the position that our clients are in right now, the power really is in their hands, Mr Desmond said".
We are finding a very positive lending environment right now with the challenger banks really taking advantage of the Banking Royal Commission to leverage themselves into some new markets that they would have previously found it hard to break into. They are doing this by giving us access to more flexible, low rates, and low fee loan products to offer our clients.
The challenge for the consumer now is to wade their way through the many options around and find the best outcome for them. This is why 60% of Australians have turned to a Financial Services Group like ours for help. Right now, having one of our lending specialists help you find the best loan is FREE.
Not only do you not pay for this service, you also get a lending professional who is up to date with all the current loan deals on the market working for you, it's their role to do all of the research before presenting the best loan options to you to choose from.
Right now, the power really is in the rightful hands of the consumer, and with the right finance advice from an industry professional, you can literally save yourself thousands of dollars by making the right educated decision on which loan offer is the best for you.
Do You Have Someone In Your Corner?
Fox Finance Group is one of Australia's leading personalised financial service organisations. We have spent many years getting things right so that you can rest assured that you are getting the very best financial advice available on the market today. We work for you, not the banks!
If you are keen to learn more or you are ready to act now, you can contact us on 1300 665 906 or you can get started here.
Learn more about the Author Nathan Drew.

Author:
Nathan Drew, Fox Finance Group
About: Managing Director - Fox Finance Group
Connect via:
LinkedIn